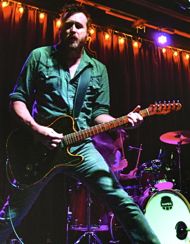 Unless you're famous or incredibly well connected, it's lonely work starting a blog. Especially before the search engines acknowledge you're there.
The traffic comes in single digits, no one comments and there are only a couple of posts to show for all your efforts setting up the site.
The temptation is to slide and wait for the action. It could be a long wait.
In the early stages it's important that new bloggers write as if they had a large enthusiastic audience. Make every word count.
We've all seen blog entries with something like, "What does it matter, no one reads this blog anyway." Ugh.
Story time: I remember seeing the rock trio Dash Rip Rock long ago in a downtown L.A. club. They had the bad luck to have to play after the headliner. Everyone in the packed house left but five or six of us. Felt sorry for the boys. But that band played as if they were rocking Madison Square Garden. One of the best shows I've ever experienced.
Be like Dash Rip Rock.