Are you mobile responsive? Er, mobile friendly? Mobile ready, even? Google wants to make sure you know.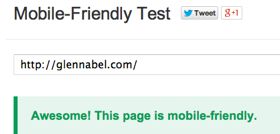 Check out this mobile web site analyzer. Enter your domain name; view the verdict.
Mobile-responsive web design has been with us for a while. No mere trend. I started building sites with the flexible-width scheme in the early summer of 2013. That code & design sea change coincided with the shift to HTML5.
Mobile-responsive sites simply react to the screen size of the device being used to view the property. The easiest way to tell if a site qualifies is to grab the browser border and pull it in and out. You should the site rebuild itself a few ways — for desktop computer, tablet and mobile phone — with a blocky look at the smallest rendering. Try it now, on this site. Watch the sidebar at the right move down to the bottom about halfway through.
The narrowest site view doesn't look so hot on a PC, but it's a blessing if you're hunkered down in some coffee dungeon, trying to read an article on your mobile.
Have you ever tapped on a Google Search result on your mobile phone, only to find yourself looking at a page where the text was too small, the links were tiny, and you had to scroll sideways to see all the content?
To help out squinting smartphone users (and perhaps to reward compliant web site owners), Google has been rolling out a "mobile friendly" tag for site listings in search results.
Here are the criteria:
"Avoids software that is not common on mobile devices, like Flash.
"Uses text that is readable without zooming.
"Sizes content to the screen so users don't have to scroll horizontally or zoom.
"Places links far enough apart so that the correct one can be easily tapped.
What not to expect: A boost in rankings just because you played along. Google's outreach folk have said repeatedly that responsive design is not a "ranking signal" — as in part of the secret sauce. But you have to assume mobile users will be more likely to click on a search engine result listing for your site if it's tagged as "friendly." (You can check Webmaster Tools for the percentage of your viewers on mobile devices — but whatever the figure is, it's growing.)
Will the Google mobile-friendly label stick? Who knows. We recently saw "authorship" mug shots featured in search results, only to have them disappear without a trace. And the SEO community just participated in a fire drill with alleged traffic boosts related to http to https migration (long story, let's skip it).
Bing is even more invested in mobile responsive:
We live in a mobile-first, cloud-first world and we need to think about our users' search experience on mobile devices differently. … We started probing web pages for "mobile friendliness" and ranking web pages accordingly on our users' mobile phones.
Bottom line: There are good things and bad things associated with mobile responsiveness, but the change is here to stay. If your site stubbornly remains the same on all devices and screen sizes, let's get it rebuilt.