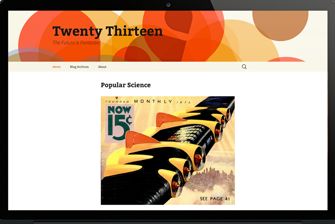 The up-to-the-second version of WordPress hit the Internet today. It's Christmas and Bastille Day all in one. Put on the party hats … and start brewing coffee.
The count brings us to WordPress 3.6, and true to WP upgrades it's named after a jazz master. This time, it's Oscar Peterson, the great Canadian pianist and "maharaja of the keyboard." (Yes, they've already used Monk. Geesh.)
New elements include a built-in HTML5 media player accommodating native audio and video embeds. This is terrific news, since homegrown A/V no longer requires plugins. We'll see how it plays out.
HTML5 markup also is an option "for things like comment and search forms, and comment lists." The Genesis premium themes I prefer, those from StudioPress, haven't been updated in months in anticipation of the HTML5 transition for WP, and so this is terrific news.
Other goodies in WordPress 3.6 include:
The new Twenty Thirteen theme, "inspired by modern art." Featuring a "responsive, device-agnostic Layout." Newbies and kids-and-pets bloggers should be thrilled. Maybe some other folks, too.
Better auto-saving and an interface that allows users to scroll through changes line by line. Let's hope this also addresses the obnoxious "the revisions are identical" bug.
Post locking for those who share their sites with other bloggers and editors. Waaaaaay past due.
A revised menu editor that's apparently easier to understand, although the previous one seemed clear enough.
Expanded support for embedded media such as Spotify, which will come into play right away on my psychedelic music blog-site.
Should you update right away? Two schools of thought.
Let the early adopters find all the bugs and suffer the headaches.
Do it now; we've waited long enough for this stuff. WordPress 3.6 has been beta tested to death since it's a major release. And every day a site remains on the older (unsupported) versions makes it more exposed to hackers.
What about this site? Done, 30 seconds ago.
Since I have multiple personal WordPress sites, I'll upgrade one or two more, then follow with the rest when the inevitable .1 bug fix drops. I don't experiment with clients' sites, so they'll all wait on the first fix release.
Enjoy some Oscar P. and get a breezy look at the upgrades: