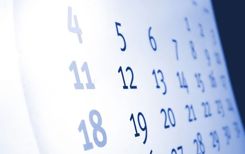 When it comes to blogging, what a difference a day makes — especially if it's the first one of the month.
I strive to update all of my blogs come the start of each new month. The previous post may be only a day old — maybe even a few hours old — but that item sinks into fish-wrap waters the second the month rolls over.
Maybe readers don't care. I'm betting they do. At the very least, it's good motivation to update — and lord knows we all need that.
Don't have an idea? You'll think of something. I just did!